Crop Updates
Watsonville - Salinas:
That's a wrap for our strawberry season. Last week's rainfall finished up our season in the Watsonville-Salinas regions. Rain is forecasted for this week as well, and our raspberry harvest will go through Thursday.
Santa Maria:
Our crews are working slow and diligently, and are doing their very best to get a nice clean pack. After assessing crop damage after last week's rainfall, it looks like there is roughly 10-15% damage - mostly on the tip and shoulder of the berry. Field personnel are dropping fruit that doesn't meet our quality standards, and only picking the best berries for our customers. This week, temperatures should remain in the 60s-70s, and rain is on the forecast again for Wednesday, Thursday and Saturday.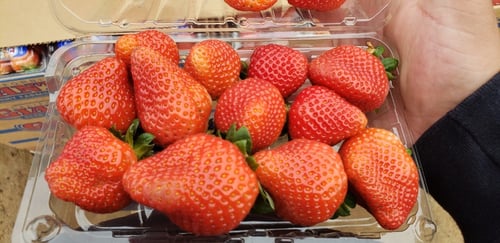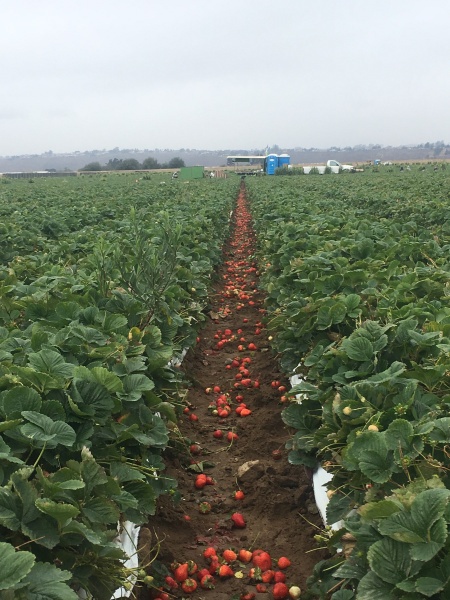 Oxnard:
Ventura County received .25-.50 inches of rain last Wednesday evening, there were some isolated areas in this foothills that received close to an inch. Our organic ranch received just over a .25 inch, however there is minimal to zero damage to the fruit. The condition of the fruit is very good, color 90-100 percent, with counts in the 22-24 range. The temperatures still remain on the cooler side, with day temperatures in the high 60s and low 70s, and nighttime temperatures in the low 50s. The rain was very good for the plants - it was much needed to clean off the dust, and hydrate the plants. There are chances again this week for more showers.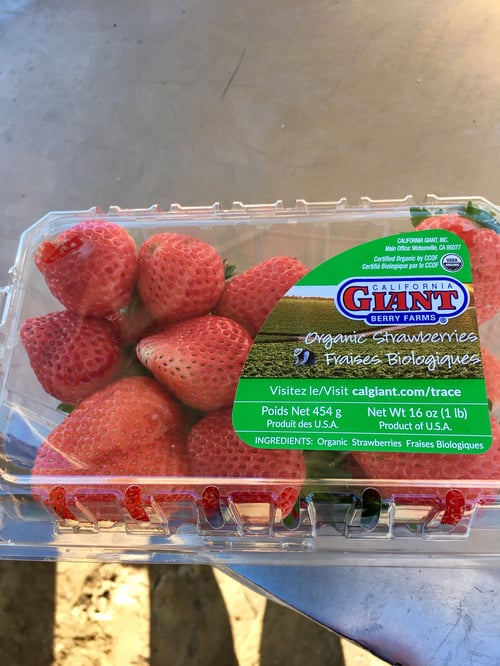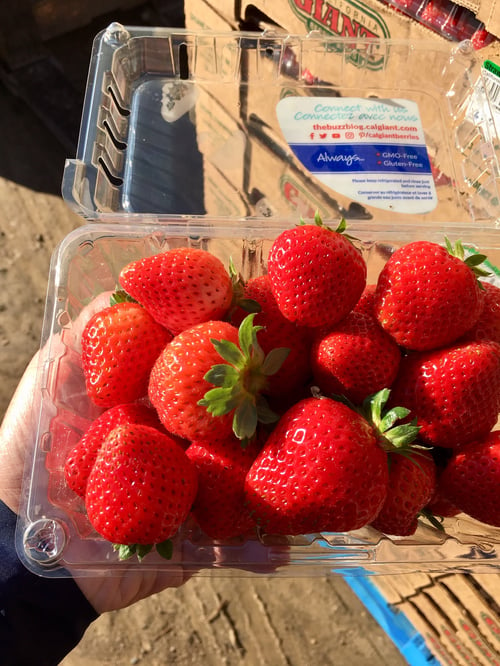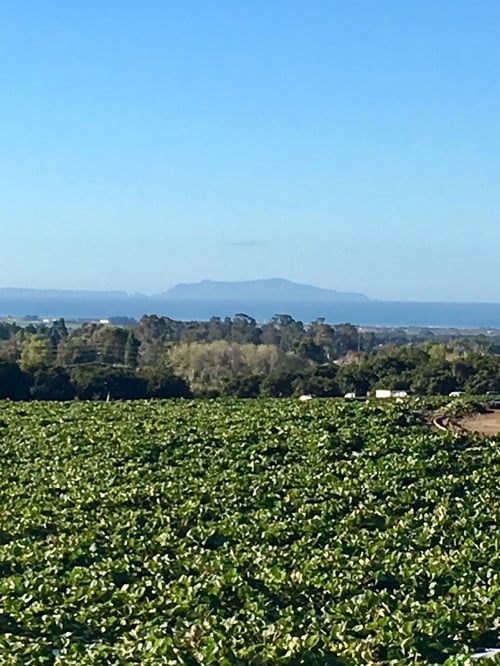 Mexico:
Blueberries:
We received rain in our Argentina/Uruguay regions last week, which did interrupt harvest. Our main harvested varieties here are currently Emerald and Star. This week, temperatures will be in the low 80s with intermittent showers. In Chile, the blueberry season is advancing slowly with rain and hail, which has prevented an increase in export volumes. Our north-central zone is producing steady volume and is becoming our second largest export zone overall. The main varieties harvested here are Star, Emerald, Primadonna, Jewel, and Oneal. Our south-central zone has high temperatures lately, which the fruit favored last week as crops started to ripen. Harvest of early varieties in Maule and Bio Bio regions are Oneal, Star and Jewel and are beginning mid-station varieties such as Duke. Temperatures will fluctuate between the mid 70s - low 80s.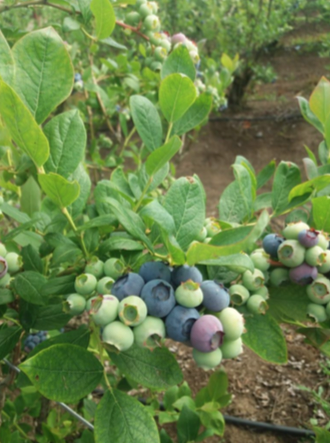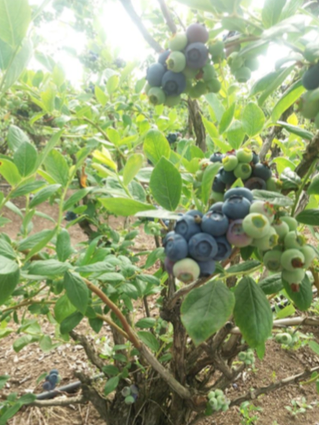 Florida:
Harvesting is going well with good quality out of Florida. This week, temperature are projected to dip into the 60s and spike back up into the 80s. Showers could be on the horizon for the weekend. Pictured below are Radiance counting 22-26 with a few lower.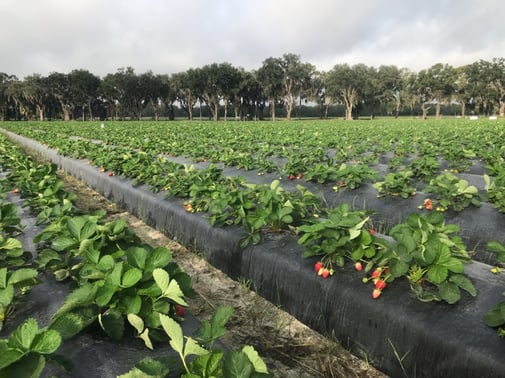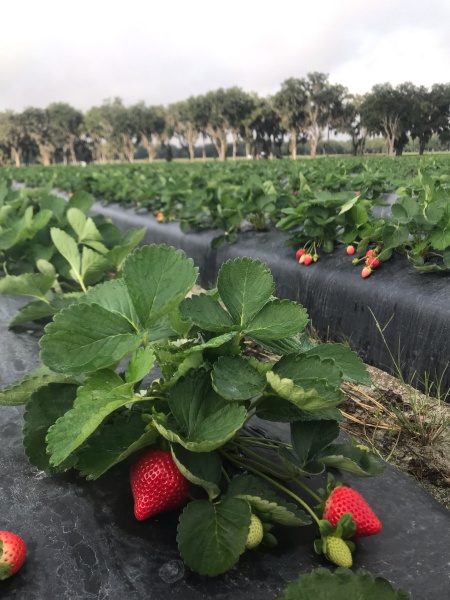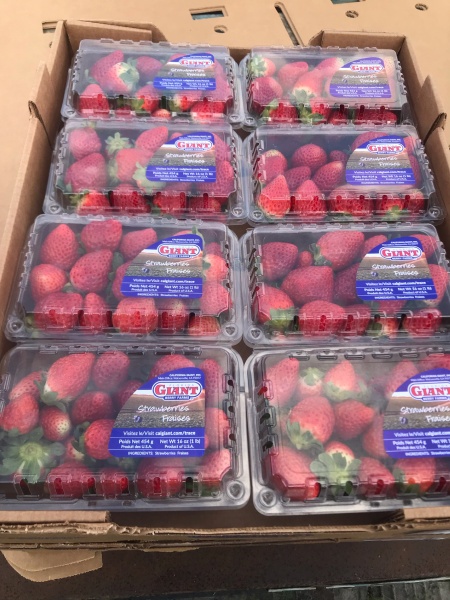 Weather Conditions
For up-to-date weather conditions in all of our growing regions, click on the region below. Wunderground.com is our go-to weather resource for fast and reliable weather updates.
News
In case you missed it last week - don't forget to mark your calendars for the Share your Holiday event Friday, December 7th. We're providing lunch in exchange for a donation - so make sure you come hungry!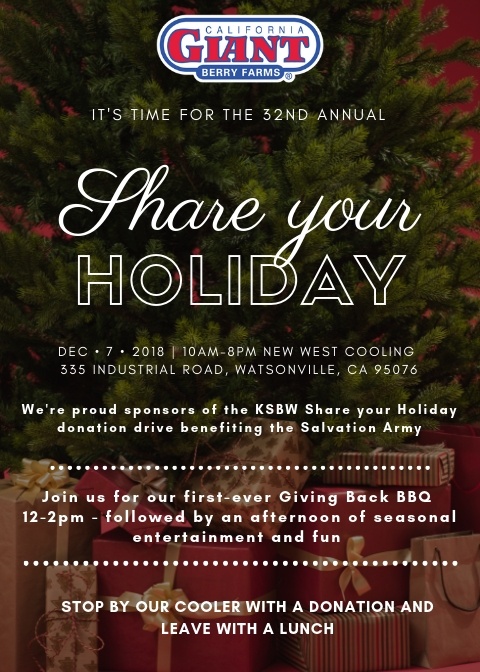 Reaching Consumers
One holiday down, and another to go! It's the most wonderful time of the year, and what better way to celebrate this cozy season than with cookies?! Whether your tradition includes decorating sugar cookies with the kiddos for Santa, or some more complex, family-favorite recipes to pass on to neighbors, coworkers, or bring to all the gatherings in the coming weeks ahead -one thing is for sure, cookies are a staple in every household as Christmas approaches.
Beginning next Monday, December 3rd through Friday, January 4th we're kicking off our Merry, Berry & Bright Cookie Exchange Promotion and if there are any seasonal recipes we have in abundance, it's delicious, decorative and decadent berry-inspired cookies.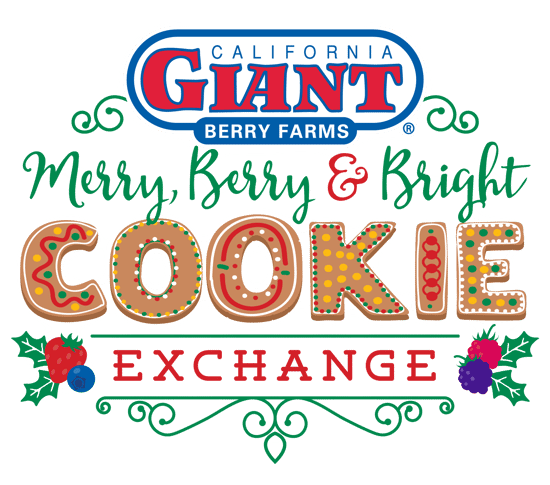 In the coming weeks, consumers can expect holiday blog content 'all-things-cookies', a fun, animated cookie video to share on our social platforms, our Berry Tribe of brand ambassadors will share their very own California Giant inspired cookie recipes, and social media engagement opportunities with our consumers, asking them to upload their tried-and-true cookie recipes for a chance to win big. We're giving 5 winners selected from the recipe uploads the choice of 5 $100 gift card options from Target, William Sonoma, Wilton Baking, The Container Store, and Whole Foods.
It's time to get Merry, Berry, Bright, and oh-so creative this Christmas season.
Notes from Nick
In just this past year we have expanded our raspberry program exponentially providing year-round availability of the crop, and adding consistency to our 4-berry program. When asked about his visit to our Mexico growing regions earlier this month to tour our raspberry operations, among our other commodities, our director of retails sales, Nick Chappell, had a lot to share.
"We kicked off the Mexico season meeting growers and checking out operations and facilities within this growing region. We spent 6 days touring operations in Central Mexico, and covered over 1,300 miles of terrain, while meeting with various growers and field personnel.
We toured our strawberry, raspberry, blueberry and blackberry operations to assess our current program, and where we see further room for advancement and growth in 2019. Those in attendance were primarily executive members of California Giant including our CEO and CFO; these trips and tours are particularly important for me to attend as I possess expertise specifically in the sales sector, analyzing supply and demand, and relaying my insights to our partners to continue transparent relationships and conversations.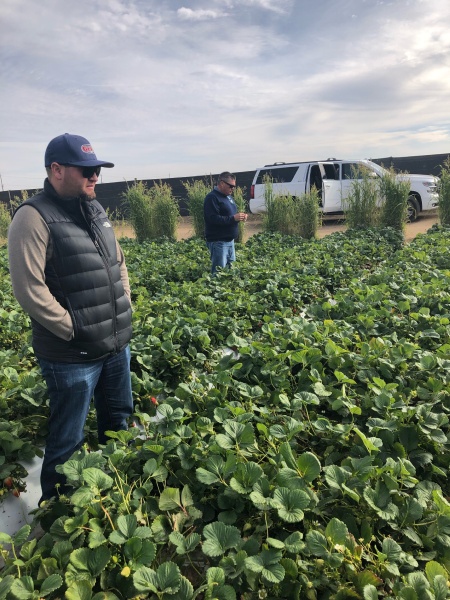 Not only did we tour our Mexico facilities for 6 days, but upon my arrival back to California, I immediately headed to our Santa Maria operations to assess our fall crop quality and facilities as the season begins to wind-down so I could see where we stood, and what changes we can implement in 2019. In addition, I also visited our organic hooped fall crop ranches to analyze and discuss potential table-top growing initiatives to implement, and potentially invest in the future. While I'm primarily in office regularly speaking with our partners, I'm also seeking opportunities for first-hand experiences, and time in the fields with our crops and growers.
Overall, it's an exciting time to be on-board. Our expanding operations in Mexico, and more specifically within our raspberry program are impressive and it's being well-received from our partners. We look forward to continuing to provide year-round availability of all 4 berries on a consistent basis, and offering a smooth transition from our Mexico season all the way through the start of our California season."
Stay tuned for more timely Notes from Nick next month!
Chef Ambassador Berry Bowl
Last week we shared one of fall's biggest trends: breakfast bowls. This week, we're sharing our California Giant Chef Invitational Top Chef's very own berry breakfast bowl creation using organic California Giant strawberries and blueberries. We love working with our Chef Ambassador - Luis Reyes of Sysco post-Chef Invitational, and collaborating with him on various recipe creation and foodie trends. We can't wait to try this one, and better yet, share this recipe with our followers!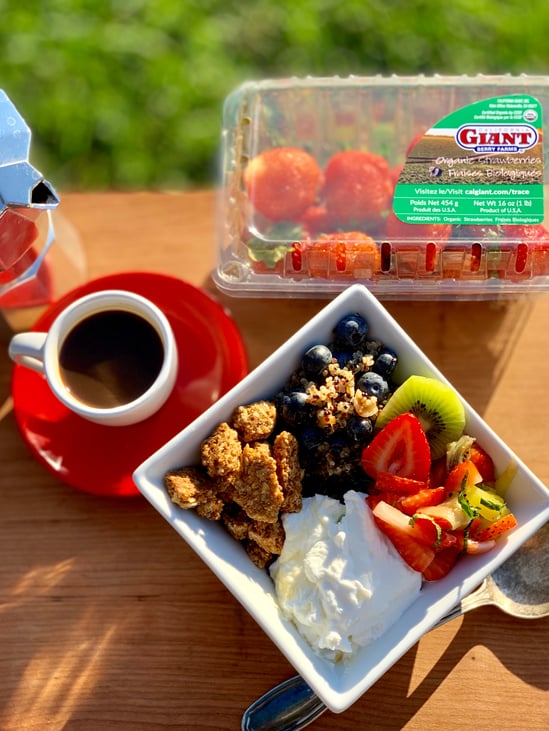 Want to check out the full recipe?
Blueberry-Vanilla Quinoa Bowl with fresh Strawberry and Kiwi Salsa, Granola, Greek Yogurt and Honey.
Yield: 4 bowls
Ingredients:
1 cup tricolor quinoa
1/3 vanilla bean
½ tsp ground cinnamon
1 tbsp sugar in the raw
Pinch kosher salt
½ pint Cal Giant Fresh Blueberries
12 ea Cal Giant Organic Strawberries
2 ea fresh kiwis
8 oz plain Greek yogurt
2 cups chopped granola bars
4 tbsp honey
4 ea fresh mint leaves
Procedure:
1. Bring 2 cups of water to a boil with the cinnamon, vanilla bean split lengthwise, pinch of salt and sugar.
2. Add the quinoa and simmer for 12-15 min until the liquid is almost completely absorbed. Cover and let sit on low for 8-10 min. The quinoa should be tender but not mushed. Remove from pot and let cool down. Combine with the blueberries and chill.
3. Chop the strawberries and the kiwi, chiffonade the mint and combine with the chopped fruit. Chill
4. To serve portion the quinoa-berry mixture, top with the Strawberry-kiwi salsa, granola, yogurt and drizzle the honey
Enjoy!
Consumer Spotlight
Our fall recipe inspiration is hitting it off at home with this consumer! Warm up at home this holiday season with our
Blackberry Mulled Wine.