Crop Updates
Watsonville-Salinas:
Weather in Watsonville-Salinas has started off gloomy and drizzly this week, and tends to clear around mid-day into partly cloudy skies. Temperatures have remained cool in the 60s, but we anticipate a slight warming trend heading into the weekend with temperatures to increase into the 70s. Quality-wise, we are in good shape, and counts are 18-20 for conventional and 26-32 for organic. Our morning fruit tends to look better than our afternoon fruit, but quality is remaining good overall. Our raspberry and blackberry crops are looking good, and our blackberries are being monitored very carefully for any red cell so packs should be kept clean. Labor remains a non-issue at this time.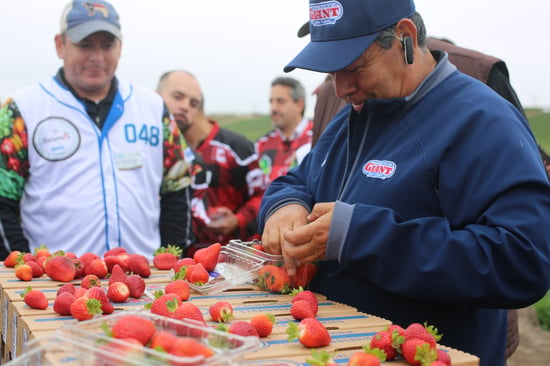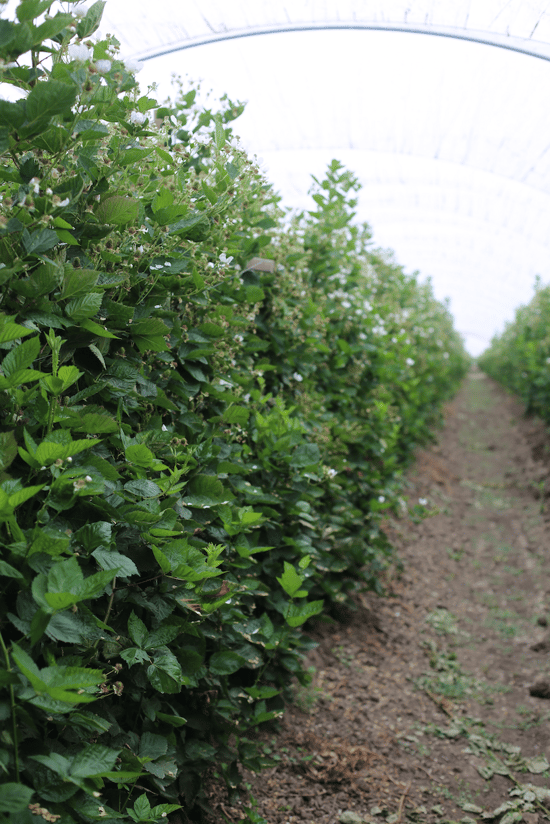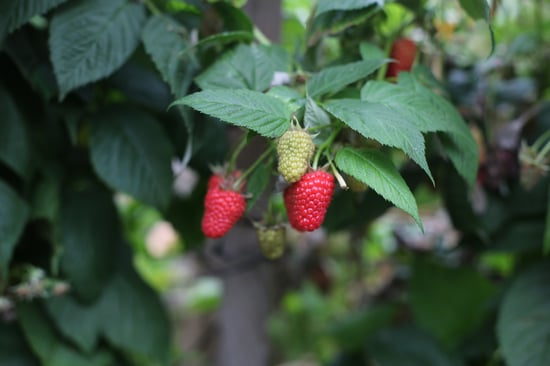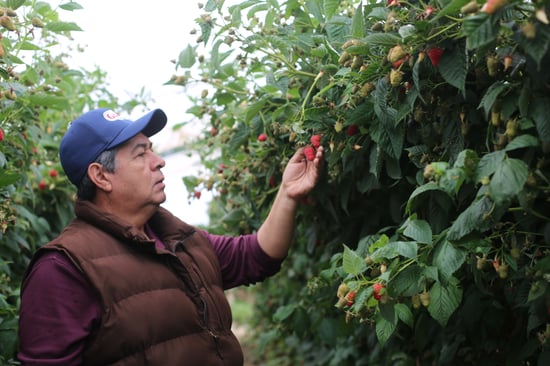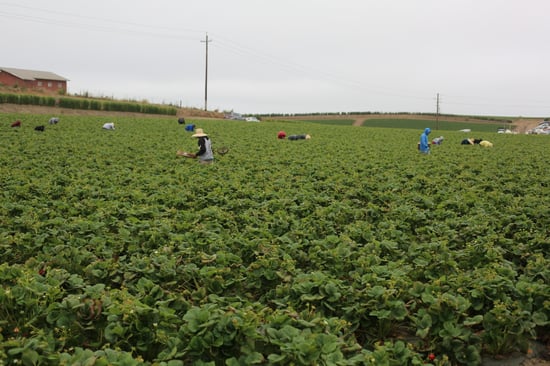 Blueberries:
Oregon Blueberries:
We are still receiving steady supply out of Oregon. We are slowly coming off our peak weeks, but will continue to have large volumes throughout August and into early September. Growers are picking mid season varieties like Draper, Liberty, Legacy, Blueribbon, Calypso, Topshelf, Cargo, and Megas Blue. Conventional quality has been good out of the field, with reports of quality in inventory at both Oregon coolers and at New West are good. Organic production is steady and quality has been great.
Mexico:
Mexico will begin harvesting light volumes during the last week of August.
British Columbia:

BC growers and packers are finishing up with the Duke variety and are packing a lot of Blue Crop and Draper. Quality has been variable out of BC lately, with some issues arising with softness on the Bluecrop variety. This region is coming down from its peak as well and quality is being monitored diligently.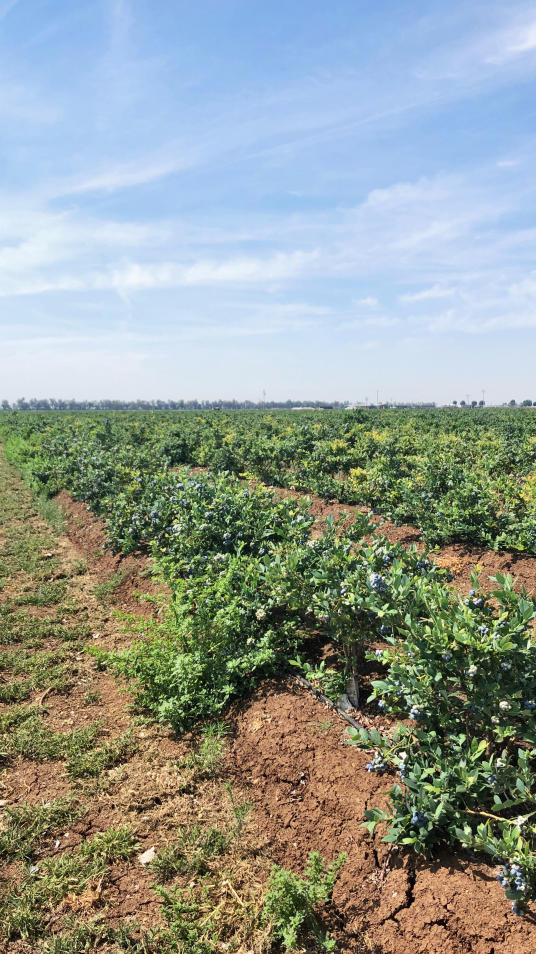 Field Tours:
Last week we had various field tours with our partners visiting for the PMA Foodservice Conference. Pictured below is a group from Sysco that visited one of our Salinas strawberry fields. Not only did they get to taste our fresh berries, but we also hosted a quality control competition - which we're happy to say, our contenders did a pretty good job! We had a great week with all our partners that were able to tour our operations and spend time with our team and growers. We hope to see you back soon!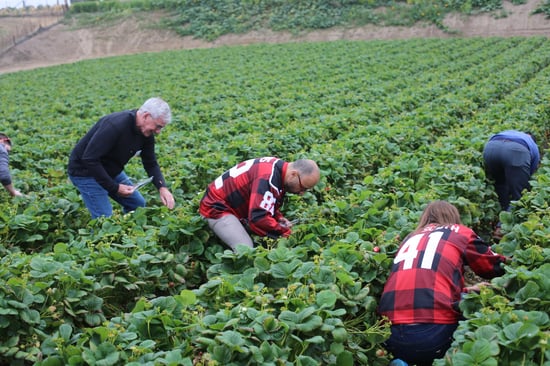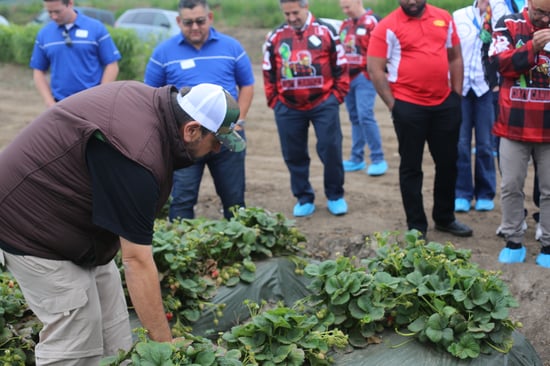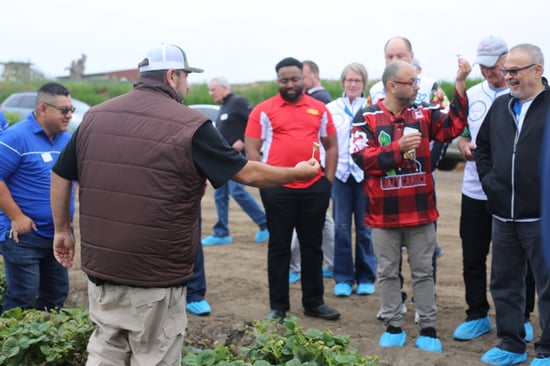 Weather Conditions
For up-to-date weather conditions in all of our growing regions, click on the region below. Wunderground.com is our go-to weather resource for fast and reliable weather updates.
TOM TALKS: PMA Foodservice Week
Highlights, Trends and Key Takeaways
Last week, our Director of Foodservice, Tom Smith had a busy, yet productive week meeting with our various partners, hosting field tours, and attending the PMA Foodservice conference in Monterey. This week, we're highlighting the trends and key takeaways he took from the events, sessions and observations on the show floor.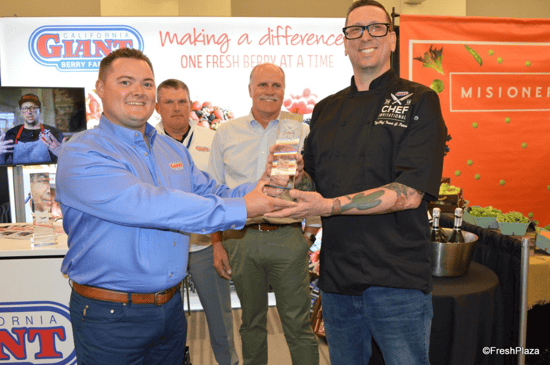 Follow along for a fun Q&A interview between our marketing team and our Director of Foodservice, Tom Smith.
MKTG: Can you explain a key-takeaway you took from the PMA Foodservice Conference this year? Any notable observations?
TS: I think it's very apparent that the produce world is marketing to chefs, and there is a huge focus on the culinary side of what we are doing in our industry, and how we are actually getting our produce from the fields to the marketplace, and a step further – into the actual kitchen of chefs. Even beyond that, it's about what the chefs are doing with our product, and the story they are relaying to their customers. Now more than ever, chefs want to know the growers better, the industry better, and to become better storytellers about what it is they are serving on their plates.
MKTG: Did you see many chefs at the PMA Foodservice Conference?
TS: I saw a lot of chefs attending the PMA Foodservice this year. Looking around the room at who was attending, it was very obvious that this is the direction the Produce Marketing Association is going – chefs and culinary individuals like Chef Ted Allen were the key note speaker to open the conference. Chef Tony Baker of Montrio Bistro and Bakers Bacon was cooking and serving within the Mann Packing and Del Monte booth, Chef Todd Fisher was seen creating recipes for the strolling lunch and participating within the Duda booth, and I noticed Chef Bert Cutino of the Whaling Station looking at the new items and commenting to the booths and sharing his thankfulness for those that were there. From a variety of perspectives and sides, such as grower-shippers connecting with chefs and trying to get produce to the consumers plate, to PMA trying to get chefs to the table so they can help facilitate these conversations – I am noticing now more than ever that the story behind our food and where it came from is at the forefront of everyone's minds.
MKTG: What did you do within your California Giant booth this year that stood out?
TS: We had a lot of interaction at our booth this year. Our 2019 Chef Invitational Top Chef Travis Peters came back out to California to represent his winning title at our booth. We had our official CGCI video playing that recapped our 2nd annual Chef Invitational, and had a champagne toast to Chef Travis and our representative partner – Markon Cooperative. We had a great response and turn out from those that were walking by the booth that day, and received countless comments from those that explained they were thankful we were reaching out to chefs and making connections beyond the product to tell our story.
MKTG: How would you say the foodservice and culinary world has evolved even within just the last few years?
TS: You think back 10-15 years ago, and there wasn't a lot of food television, now the Food Network is one of the most popular networks on TV. Now, everyone wants to know about food. Today we are sitting in a Thai restaurant – growing up in a small, rural town in the Mid-West, I never saw a Thai restaurant. I think cuisine as a whole is becoming more open and accessible to everyone. It's becoming more available and more accommodating for people to try new things, and it's also significantly centered around travel. People plan vacations and travels based off the food they're going to try and the cultures they are going to be exposed to. People are more thoughtful than ever, and open to exploring new recipes and cuisines than they were in the past, and it's a really exciting time to be a part of it all.
MTKG: Can you explain some specific trends you noticed at the show? Did anything in particular stand out to you?
TS: There were three trends in particular that stood out to me from some of the various education sessions. Meatless or combo foods was one of them. The impossible burger, for instance, is made from a pea protein base. The mushroom burger was another good example of a combo food trend, with 30 % of the patty mushroom based. We also saw a lot of conversation around delivery services. Businesses are beginning to modify menu options so they taste better for delivery, without sacrificing flavor. One restaurant explained that their crispy fried taco on their regular menu was garnished with a crema sauce, lettuce and tomato. For their delivery menu version, they created an alternative tortilla made from different flour and a new method of frying the tortilla. They substituted the lettuce for cabbage, and used a crispy radish slaw instead of a dairy-based crema. Essentially, a dish was created that was equally as good for the delivery menu, and it travels better so consumers can be satisfied. The third trend takeaway was plant based eating – turning to alternatives like cauliflower pizza crust, or pepperonis infused with turkey and mushrooms, and taking it a step further to include more plants on the plate.
MKTG: All very exciting trends. I want to try that mushroom burger! Do you have any final insights you'd like to share?
TS: The week before PMA is about telling your story to your partners, taking them out to the fields, showcasing your operations and introducing them to the growers and building on those relationships. The value of taking customers to our fields to hear our story, host lunches and develop these relationships is key to building the strong relationships that we are fortunate to have. Taking it a step further at the PMA Conference to reconnect with those same faces and meet new ones, all while telling our story, connecting with the chefs behind the plates and representing our product is truly invaluable. We're already looking forward to next year!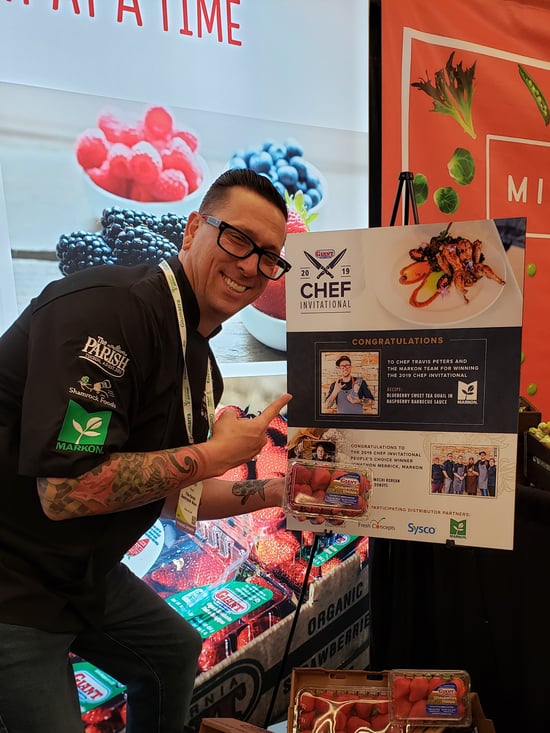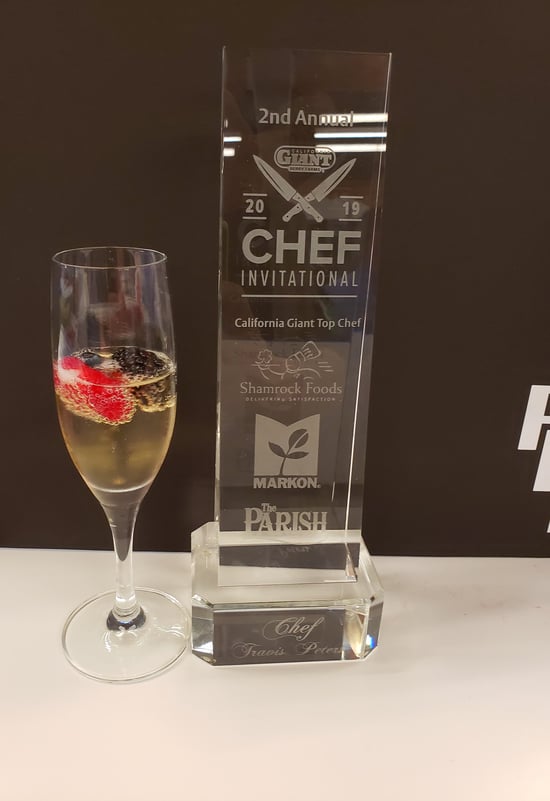 Some photos above were sourced from Fresh Plaza.
Consumer Spotlight
We're #poweredbyberries all the way in Canada - and so happy to hear our berries are making people's days brighter.